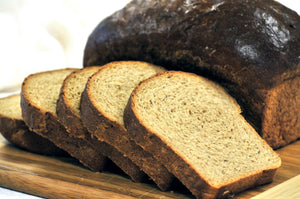 Monastery Pantry
WHEAT BREAD - Anadama Bread
Regular price
$4.00
$0.00
Unit price
per
WHEAT BREAD (a stick-to-your-ribs bread that will see you through a days' labor).  We offer four versions of Whole Wheat.
ANADAMA 
The present writer confesses that THIS is her favorite. Our Anadama has unique  quality of lasting freshness. Almost everyone knows the story: Anna was away from home and her hungry husband finding the bread box empty, decided to bake bread for himself. Unsure and unhappy he muttered, Annadamnher -  producing, nevertheless, a wonderful loaf with a name that tells his story.   ~ 14 oz ~
NO PRESERVATIVES
INGREDIENTS: whole wheat flour, water, molasses, cornmeal, eggs, margarine, yeast, salt
For customers located in the following states:

Arizona, California, Colorado, Idaho, Montana, Nebraska, Nevada, New Mexico, North Dakota, Oregon, South Dakota, Utah, Washington, Wyoming

If ordering cheesecakes and/or yogurt, please, place a separate order for cheesecakes and/or yogurt to avoid expedited shipping charge for other items. Cheesecakes and yogurt require expedited shipping to these states to ensure quality of product upon arrival.
---
Share this Product
---